Wigan contact center to create 100 jobs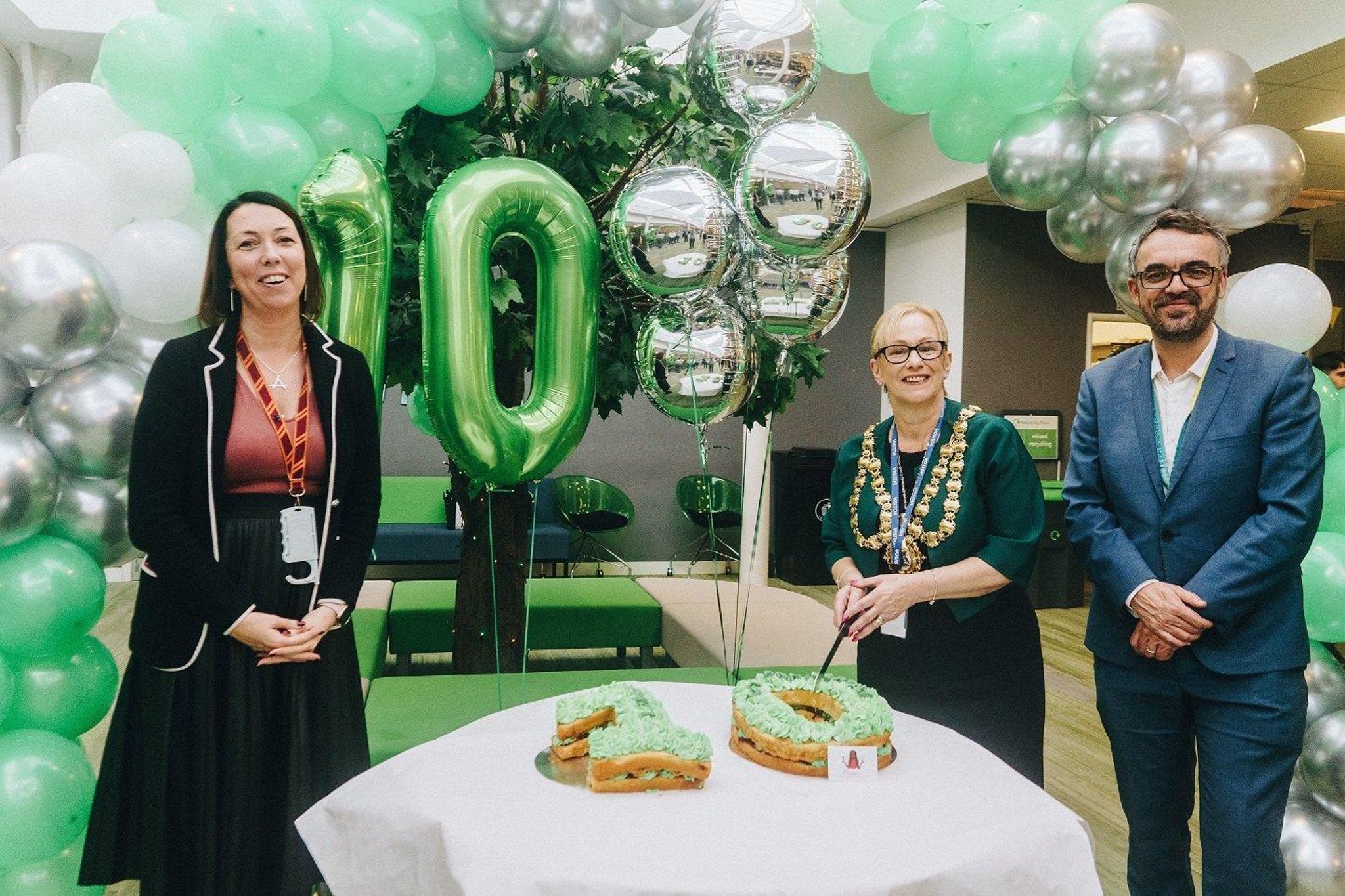 Count Yvonne Klieve cuts the birthday cake
The announcement came as customer experience company Interact celebrated its 10th anniversary.
Interact is a leading CX (customer experience) outsourcing specialist, partnering with many leading global brands to provide award-winning CX, sales and digital messaging services.
As it proudly celebrates a decade since its founding, the company announced the continued expansion of its UK operations.
Sam Powell joins the celebrations
The Mayor of Wigan, Councilor Yvonne Klieve, was among the guests at her Trencherfield Mill base to mark the occasion and the new jobs.
Read more
Read more
Calls to suspend the consultation on the closure of the Wigan school
This growth follows Interact's continued success in serving some of the world's largest organizations, many of which have been partners for much of the past decade.
The expansion will ensure the creation of additional capacity for the growth of existing customers as well as for the acquisition of new customers.
Coun Klieve said: "Interact is a company that has continued to grow and develop over the years, providing more opportunities for local people and beyond to find employment. We are delighted to have them based in the borough and to see this new growth.
Neil Barber, Managing Director of Interact North West, said, "Our people and customers are at the forefront of the celebrations because they are the reason for our success. Without them, Interact would not be celebrating its 10th anniversary and would not be ready for continued growth.
"We are proud to bring 100 new jobs to the community. Since the company was founded in 2011, we have worked hard as a team to develop a leading CX business, delivering positive interactions to customers every day.
The celebrations were made even more special by the appearance of Wigan Warriors rugby legend Sam Powell at the contact center.
Mr Barber said: "We are delighted that Sam Powell from Wigan Warriors can join Interact and help our team continue our celebrations. Our staff and customers are at the forefront of our celebrations, and we wanted to make sure we mark the occasion.
"Having Sam Powell, a Wigan Warriors legend there, was amazing and helped us thank our fabulous team who worked incredibly hard to make Interact what it is today, a premier CX company. "
Neil Perring, Founder of Interact, added: "We are delighted to celebrate 10 years of Interact and to take advantage of this important milestone. Interact was created by talented and experienced industry professionals, many of whom still run our business today. "
The company has UK contact centers in Wigan and Richmond and offers offshore facilities from South Africa.
Thanks for reading. If you enjoy what we do and are able to support us, a digital subscription costs just £ 1 for your first month. Try us today by clicking here and consult our offers.