The future of the contact center is here and now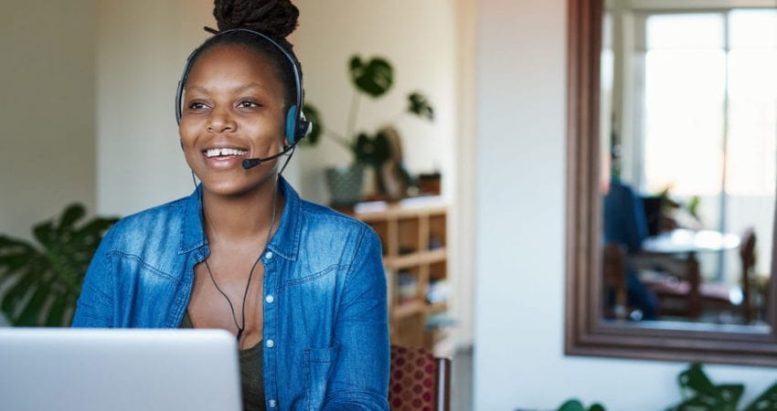 The future of contact centers is here, now
How is the future of contact centers shaping up? Here are 9 ways the pandemic has accelerated contact center transformation.
The future of the contact center is here, and it's innovative, expert-driven, and thriving. But the signs did not always indicate that things would be so. In fact, before the pandemic began, experts predicted the coming decline of the contact center.
No one could have predicted how the COVID-19 related changes would shut down or completely alter in-person customer channels and disrupt the customer experience. In truth, none of us were truly prepared for all of the changes to come, but in the wake of these challenges, we have seen a slew of contact center transformations.
From the rise of the contact center as a lifeline for businesses in these turbulent times to the emergence of a more flexible virtual model, here are the biggest contact center transformations we've seen in the wake of the pandemic and how the future of the contact center is shaping up.
9 changes since the start of the pandemic that have fueled the future of the contact center
The new importance of the contact center
#1: The contact center has become a new lifeline for businesses
Over the past two years, contact center and digital have been among the few channels that have remained open as companies shut down or changed operating models. In these turbulent times, the contact center has helped organizations stay afloat.
#2: Business leaders recognize the potential to harness the power of contact center information
As a last resort for customers who have exhausted all other channels when seeking help and information – such as self-service and digital channels – the contact center is where all the gold is. in terms of experience analysis.
Executives leveraging contact center data can learn a lot about their business: what the customer wants them to not yet provide, how the customer wants to be served, and how to evolve their products and services. This is not easy information to glean from digital channels because when these fail, customers simply leave.
If organizations get the chance, customers will contact the contact center. And that's why it's so important for leaders to harness the full potential of the contact center for data mining.
Modification of working conditions
#3: Companies decide which work configuration model to adopt
Immediately after the onset of the pandemic, companies hastily adopted new work models – doing whatever it took to keep business going. Today, however, organizations are taking the time to consider which model will best meet their needs and the needs of their employees.
Today, decision makers must choose between carefully rethinking a new remote model, adopting a hybrid model, or returning to work in the traditional contact center.
#4: The age of the employee has arrived
Contact centers have seen a real loss of agents due to COVID-19. As a rule, we always see a shortfall. The job market is tight, and the best agents may be looking to sell their services to the highest bidder, the most flexible work option, or simply the company with the best benefits.
The power is now in the hands of the employee. Officers realized they no longer needed to commute and be paid minimum wage. They can work from home, be successful, and earn a higher salary.
With the arrival of the age of the employee, the new challenge for organizations is how companies hire, coach and promote today's new workforce. And how can contact centers retain their existing teams, identify and resolve issues causing attrition, and continue to provide exceptional customer service? With employees holding the cards, companies need to look at the key factors that influence employee retention – not just salary, but also benefits, working conditions, and management structure.
This new shift in the balance of power could hit companies that decide not to embrace a flexible, remote working setup the hardest.
#5: Data transparency is even more important for employees
Transparency and data visibility for the frontline is even more important now because distributed team members aren't meeting face-to-face with their managers on an ongoing basis. Previously, a supervisor could hear a phone call, step in, and offer assistance. Without this option, companies must have the technology to support remote workforce performance and offer data-driven coaching.
This means providing information and visibility to the front lines, so they can learn from their mistakes, correct themselves and continue to grow. Monthly performance reports are deprecated and replaced by real-time performance dashboards.
The rise of agile practices
#6: Companies have recognized the opportunity to have versatile employees
In many ways, the pandemic has accelerated the pace of cross-functional employees to enable a more agile workforce. For example, one of our telecommunications clients transitioned its retail employees to become contact center agents when its physical stores were forced to close.
#7: More mature contact centers adopt a more agile and flexible model
There is no one-size-fits-all contact center model. But we're going to see key contact center teams adopt a more remote and agile workforce, where training is a key priority and area of ​​focus.
This may mean hiring fewer full-time officers and instead relying more on part-time staff. Organizations struggle to effectively optimize peak hours with a staff of only full-time agents, but they can do so if they have a more flexible model with a mix of full-time and part-time staff.
The results of these efforts will begin to be felt over the next year, with the emergence of innovators who have the right people working at the right time, during peak hours. As this virtual contact center of the future begins to evolve and optimize, we are going to see productivity gains of 10-20% as a result of this more flexible workforce.
This new agile model will be more difficult to manage, but the winners will be those who really succeed.
There are many, many verticals that this model is a great fit for – those verticals that are always on the cutting edge of change, at the forefront of technological advancement, and adopting best practices and processes – like Telco brands. That being said, this future model contact center will not work for all types of organizations, such as government agencies.
We're going to see a maturation of this in the future, especially as we start to see success stories and rush to become agile. There will be plenty of organizations that will sit down and learn from those who can run their businesses very profitably, remotely.
#8: Organizations are beginning to adopt AI and expert agents – and this is just the beginning
Businesses are leveraging artificial intelligence (AI) to manage simple customer interactions. The technology is ready – AI is now very good at recognizing basic requests and being able to automate processes – and it's paying off.
But as we see the basics supported, we're going to see the rise of the expert capable of handling increasingly complex challenges – the kind that aren't easily solved by self-service. and AI. These experts are going to demand higher salaries and greater benefits.
We are at the beginning of this maturation curve. As the years go by, I expect to see the role of the contact center become even more important and tightly managed. The future of the contact center will be a fascinating workplace and a fascinating business.
#9: Companies are updating their tech stacks
Single-vendor contact center management platforms are no longer enough. Executives have long known that each of these solutions may not be best in class, but they got stuck because they felt it was the best way to streamline their data.
However, the reality is that many of these single-vendor platform elements are not integrated from a data perspective. Either the data is encrypted, trapped in the platform, leaving teams unable to add context and richness to any complementary technology.
Savvy contact centers are now liberating their data by partnering with multiple vendors and leveraging agile platforms to create fully integrated agile technology stacks. These features provide a huge advantage to businesses that for years have been tied to a single vendor platform to manage everything from call management, recording, analytics, and workforce management.
Ultimately, this approach enables a daisy chain of data and actions. By connecting data across sources, brands can perform omnichannel impact analysis to quickly and continuously show, at scale, every pain point and customer impact.
It also enables the growth of predictive analytics, which will not only allow organizations to predict customer experience metrics based on holistic experiences, but also enable synthetic NPS® for customers who have not not engaged.
For many years, we've wanted to collect feedback from those who never give feedback – the so-called silent majority of customers – and that day has come.

Medallia is the pioneer and market leader in experience management.
Medallia's award-winning SaaS platform, Medallia Experience Cloud, leads the market in understanding and managing the experience for customers, employees and citizens.
Using Medallia Experience Cloud, customers can reduce churn, turn detractors into promoters and buyers, create in-the-moment cross-sell and up-sell opportunities, and make revenue-impacting business decisions, delivering clear and powerful returns on investment.
Whether you're looking to empower agents or operations teams, Medallia can help you create better experiences for your teams and customers.
For more information about Medallia, see their company profile