QR code for contact tracing removed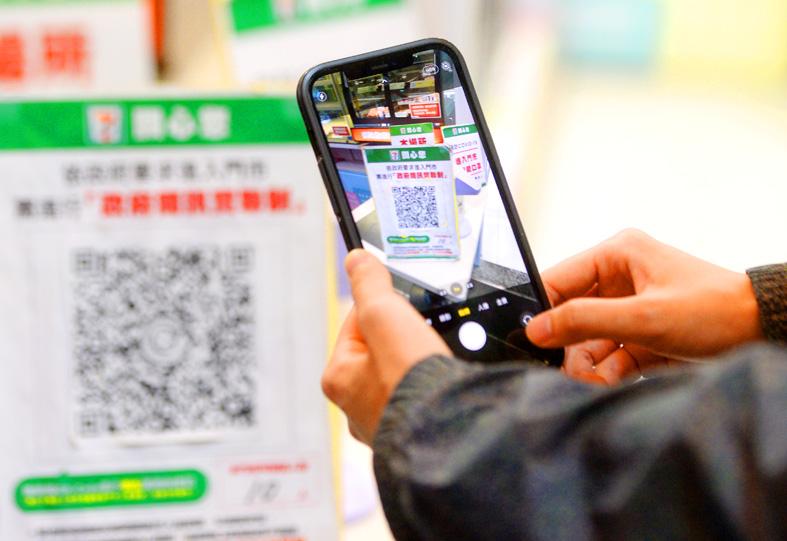 SOCIAL DISTANCING APPLICATION:


People are encouraged to download the app, which notifies them if they have come into close contact with a COVID-19 case
By Lee I-chia / Staff Reporter
The requirement to scan a QR code for contact tracing in public and commercial places has been rescinded, effective immediately, the Central Epidemic Command Center (CECC) announced yesterday, which has reported 8,822 local cases of COVID-19 and two deaths.
Other nationwide restrictions related to COVID-19, including mask-wearing, would remain the same through next month, he added.
The contact registration QR code scanning system was launched on May 19 last year to help local governments identify close contacts of confirmed cases.
Photo: Wang Yi-sung, Taipei Times
Minister of Health and Welfare Chen Shih-chung (陳時中), who heads the center, said the system would be discontinued, as data from the system is no longer used for contact tracing, so the scanning of QR codes would be a meaningless inconvenience.
The center announced on Monday that it was simplifying its contact tracing efforts and only identifying "key close contacts" – people living in the same household, classmates or colleagues, who have been in close contact with the case in the past two days – and placing them under home isolation.
The CECC has encouraged people to download the Taiwan Social Distancing (台灣社交距離) app on their smartphones, so they can be notified if they have come into close contact with a confirmed case.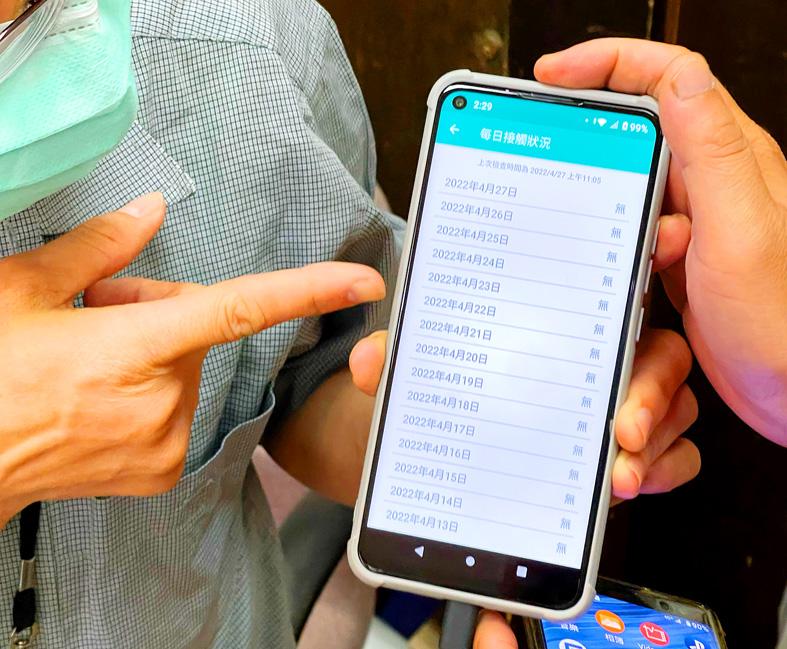 Photo: ANC
While the app becomes more effective if more people download and use it, the center said earlier this month it hopes to reach at least 12 million users.
Chen said yesterday that it has nearly 8.2 million users so far.
Chen yesterday encouraged people to use the app and take a rapid test after being notified of exposure to a confirmed case.
Photo: ANC
Users do not need to get tested as soon as they are notified of exposure to a case because the virus might not be detected immediately, he added.
As of Tuesday, 42,844 local infections have been reported so far this year, including five deaths, Chen said, adding that 120 were classified as moderate infections and 12 as severe infections, accounting for 0.28 percent and 0.03 percent of the total respectively. total.
Of the 8,822 local infections reported yesterday, 14 new moderate cases and three severe cases were confirmed, including one death, Chen said.
Centers for Disease Control Deputy Director General Philip Lo (羅一鈞), deputy chief of the CECC's Medical Response Division, said the two serious cases were a man in his 80s and a teenager, both with chronic neurological conditions. .
They had pneumonia and respiratory distress after contracting COVID-19, he said.
The elderly man received three doses of a COVID-19 vaccine, but the teenager was not vaccinated, he said,
The local death was a man in his 60s, who was hospitalized with cancer and had pneumonia after contracting COVID-19, Lo said, adding that his condition worsened and he died of metastatic cancer, multiple organ failure and COVID-19 infection.
Another death associated with COVID-19 confirmed yesterday was an imported case – a man in his 50s, who had cancer and heart disease, Lo said.
He tested negative when he arrived on April 16, but started experiencing symptoms the next day, he said.
On April 17, the man was tested but refused further examination at a hospital, and he returned home to self-isolate, but was found unconscious by family members the following day and died of cardiopulmonary failure and COVID-19 infection, Lo says.
The center's estimate is that there could be 13,000 to 19,000 cases per day by the end of the month, Chen said.
At a minimum, cases are expected to peak at 45,000 per day, while the maximum estimate is around 100,000 cases per day, he said.
Separately, Taipei Mayor Ko Wen-je (柯文哲) was asked to elaborate, after mentioning a potential "soft lockdown" in the city if confirmed cases in Taipei reach over 500,000 on 18 may.
A "soft lockdown" would be like the measures taken during the Level 3 COVID-19 alert last year, Ko said.
This would include refraining from dining on site, suspending classes and encouraging remote working, Ko said, adding that people should act on their own without the government having to enforce strict measures.
Additional reporting by Cheng Ming-hsiang and CNA
Comments will be moderated. Keep comments relevant to the article. Remarks containing abusive and obscene language, personal attacks of any kind or promotion will be removed and the user banned. The final decision will be at the discretion of the Taipei Times.