No mask requirements, contact tracing for Covid as Salem schools resume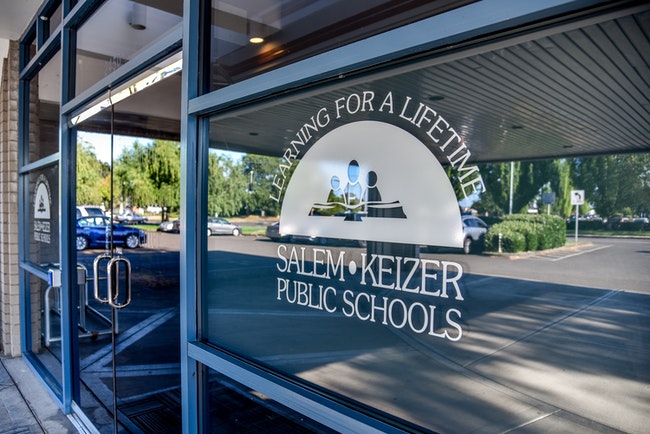 Salem's 40,000 public school students will return to class the same way they have for the past three years — under the cloud of a lingering pandemic. But this year, the state backed down and generally let local districts determine how to keep students safe and healthy.
When classes resume Sept. 7, schools in the Salem-Keizer School District will continue to monitor Covid infections and report outbreaks — where a significant number of students in a class or sports team are sick — to families. But Covid will generally be treated like other infectious diseases, with no quarantines required for people exposed to the virus and no masks required in schools, district spokesman Aaron Harada said.
Last Wednesday, Department of Education director Colt Gill told a press conference that almost all health and safety procedures would be left to local districts other than the state-wide rules. State such as vaccinations for school employees and volunteers, which remain in effect.
"As a pediatrician and now as a state health worker, I know firsthand that schools are critical to the social and emotional well-being of our children," said state epidemiologist Dean. Sidelinger at the August 17 press conference. "Vaccinating children against Covid-19 is a simple and safe way to help protect your whole family."
Salem Keizer Public School spokeswoman Emily Hicks said Aug. 24 that information about the district's protocols can be found online and that the district will be working with the State Department of Education. Oregon and the Oregon Health Authority in the event of an outbreak of a communicable disease such as Covid or monkeypox.
On August 17, the state reported its first pediatric case of monkeypox.
According to the district's website, the rate of Covid cases in the community of Marion and Polk County will be monitored over the next school year.
"When any of our counties move to high risk, the district will strongly recommend wearing a face covering for all individuals, especially indoors or in crowded environments," the policy reads.
In cases of low or medium risk in the counties, the district will also recommend wearing a face mask.
Marion County is currently at high risk and Polk is at moderate risk, according to the US Centers for Disease Control and Prevention.
If a person in the district tests positive, the district will work with the local public health authority to ensure the person follows isolation instructions, the district's website says. This isolation would allow a return on the sixth day. Exposure to Covid will no longer require quarantine – only positive cases need to be quarantined.
Classroom notifications will occur for outbreaks, Harada said. The threshold for an outbreak varies, but is typically when rates of student absenteeism due to illness exceed normal levels – 20% in a classroom or other group, or 30% in a school.
Otherwise, students and families will not be notified if someone in their class, club or sports team tests positive for Covid, Harada said.
The district's website also tracks Covid cases by school and separates cases by staff and students.
Contact reporter Caitlyn May at [email protected].
JUST THE FACTS, FOR SALE – We report on your community with care and depth, fairness and accuracy. Receive local news that matters to you. Subscribe to Salem Reporter from $5 per month. Click on I want to subscribe!