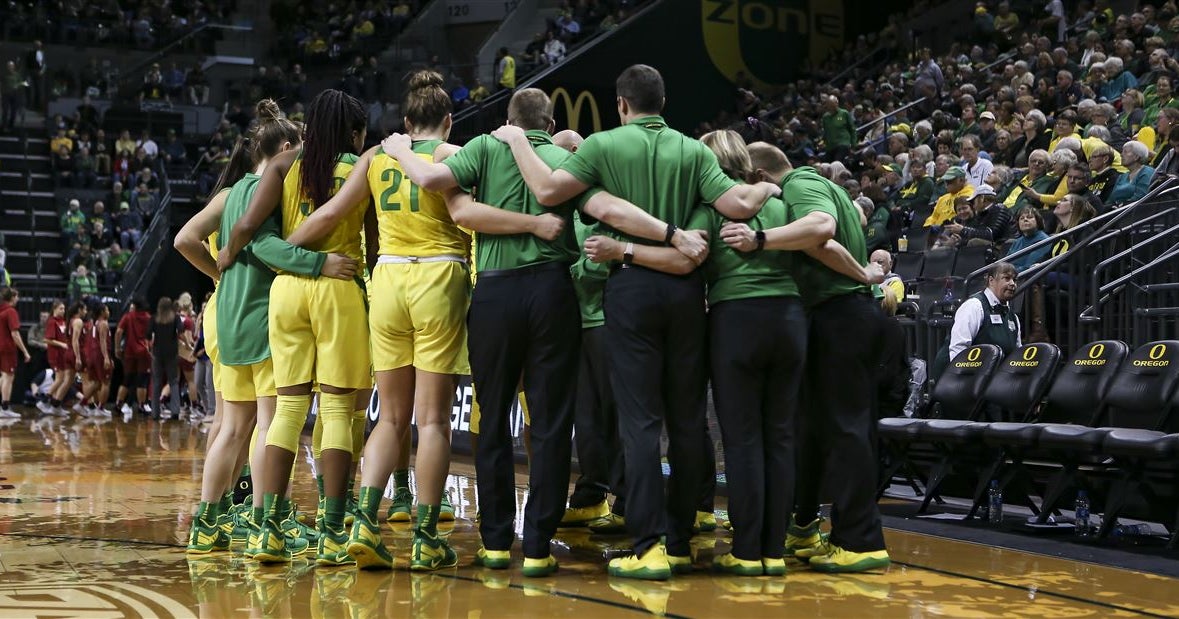 Full Oregon women's basketball schedule released
The 2021-22 women's basketball schedule has been released in full. The school released a finalized 30-game schedule on Monday, which includes 12 non-conference games and 18 Pac-12 games.
The Ducks will play 15 of the 30 games in the friendly crowded grounds of Matthew Knight Arena. Fans were not allowed to attend games during the 2020-21 season.
The first of two exhibition matches for the team will take place later this month when they host Saint Martin's on October 28. The first scoring game will take place a few weeks later, on November 9, when the state of Idaho comes to town.
Below, the 2021-22 season in its entirety.
Oct 28 – Saint Martin's (EXH.) / Matthew Knight Arena / 6 p.m.
November 6 – Westmont (EXH.) / Matthew Knight Arena / TBD
Nov. 9 – State of Idaho / Matthew Knight Arena / 7:30 p.m.
Nov. 14 – Dixie State / Matthew Knight Arena / 4 p.m.
November 20 – Oklahoma / Paradise Island, Bahamas / TBD
November 21 – South Carolina or Buffalo / Paradise Island, Bahamas / TBD
November 22 – TBD / Paradise Island, Bahamas / TBD
December 1 – UC-Davis / Matthew Knight Arena 3:30 p.m.
December 4 – Portland / Portland, Oregon / 6 p.m.
December 11 – Long Beach State / Matthew Knight Arena / 2 p.m.
December 13 – McNese State / Matthew Knight Arena / 6 p.m.
December 18 – in Kansas State / Manhattan, Kans. / 4:30 p.m.
December 21 – at Northwestern / Evanston, Illi. / 6 p.m.
December 31 – Utah * / Matthew Knight Arena / 7 p.m.
January 2 – Colorado * / Matthew Knight Arena / Noon
January 7 – at Stanford * / Stanford, Cali. / 7 p.m.
January 9 – California * / Berkeley, Cali / 1 p.m.
January 13 – Arizona State * / Matthew Knight Arena / 8 p.m.
January 15 – Arizona * / Matthew Knight Arena – 2:30 p.m.
January 17 – UCONN / Matthew Knight Arena / TBD
January 21 – in Washington * / Seattle, Washington / 7 p.m.
January 23 – in Washington State * / Pullman, Washington / Noon
January 28 – UCLA * / Matthew Knight Arena / 8 p.m.
January 30 – USC * / Matthew Knight Arena / Noon
February 4 – Arizona * / Tucson, Arizona / 7 p.m.
February 6 – at Arizona State * / Tempe, Arizona / 1 p.m.
Feb. 11 – at Oregon State * / Corvallis, Oregon / 8 p.m.
February 13 – State of Oregon * / Matthew Knight Arena / 1 p.m.
February 18 – California * / Matthew Knight Arena / 7 p.m.
February 20 – Stanford * / Matthew Knight Arena / 1 p.m.
Feb 23 – Colorado / Boulder, Colorado / 6 p.m.
February 26 – in Utah / Salt Lake City, Utah / at noon
2-6 March – PAC-12 / LAS VEGAS, NEVADA TOURNAMENT