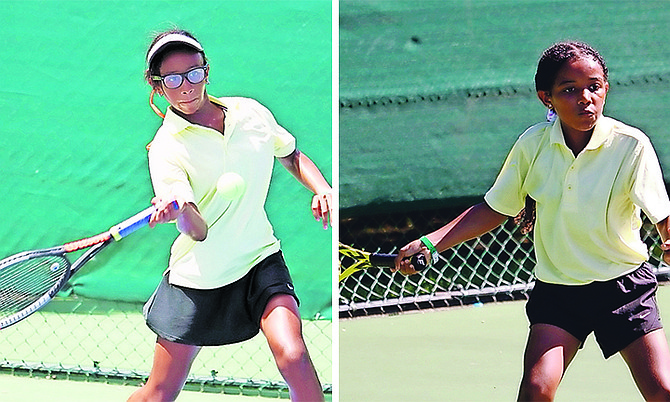 COTECC U-12: Bahamas win 2-1 against Trinidad and Tobago
Grand Bahamian Tatyana Madu, left, and Briana Houlgrave in action yesterday at the COTECC Under-12 tennis tournament in Santo Domingo, Dominican Republic.
The three-member Bahamas Lawn Tennis Association team at the COTECC 2021 Under-12 tournament in Santo Domingo, Dominican Republic scored another victory, but this time, coach Marion Bain said the players had to show a lot of resilience to win.
After sweeping Saint Lucia 3-0 in their opener on Monday, the Bahamas won 2-1 over Trinidad and Tobago yesterday in the Centro Nacional de Tenis Parque del Este tournament, held in a similar fashion to the Davis Cup / Billie Jean King Cup. format.
Each event will be played with two singles and one double.
The top two teams from each sub-region plus two teams from Mexico will advance to the ITF / COTECC U12 team final, which will take place the week of November 22.
Briana Houlgrave, an 11-year-old Windsor Academy student, again won the Bahamas second in singles, winning 6-0, 6-3 over Shiloh Walker of Trinidad and Tobago.
Bahamian tall Tatyana Madu, a 12-year-old student of Bishop Michael Eldon, also got off to a good start against Em Myriam Campbell-Smith of Trinidad, winning the opening set 6-3.
However, in the second set Madu was forced to retire at 5-5 after leading the setup of Game 1. It was played out in doubles and Houlgrave teamed up with 11-year-old student Kaylah Fox. years of St Andrew's, as they took the win with a stunning three-pass performance 6-3, 4-6, 10-3. "It was a tough day but we managed to pull off the double," Bain said. "In doubles, the girls were tough, playing a slightly more experienced team. They trusted the process and were very receptive to the coaching.
BLTA congratulates Madu, Fox, Houlgrave and Coach Bain's team as they won their second straight game in two consecutive days for Team Bahamas.
The BLTA is satisfied with the performance of all the girls.
The performance on this world stage is a testament to the hard work every girl has put in over the years. Last year, due to the pandemic, there was no competition.
"This year it was important for the BLTA to ensure that our players had the opportunity to compete and represent the nation," said BLTA President Perry Newton.
"The girls and their parents stayed ready, which reflects their level of play.
"We hope that they will continue to do their best as this experience will only serve to develop each of them on their path to tennis."
The Bahamas face host nation Dominican Republic today and, as they did in their opening two games, coach Bain said the mood will be the same for the players. "I want them to be prepared to put 100% effort, attitude and focus into one game at a time."