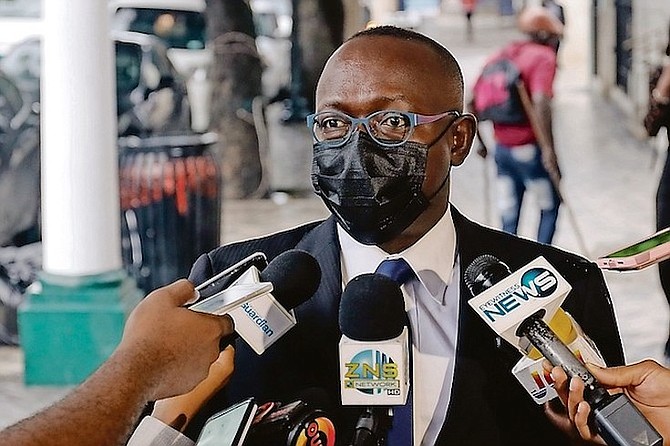 Chester Cooper: Strong demand for the Bahamas as a tourist destination
VICE-Prime Minister and Minister of Tourism, Investment and Aviation Chester Cooper. File photo: Donovan McIntosh / Tribune Staff
By EARYEL BOWLEG
Journalist of the Tribune
TOURISM, Investment and Aviation Minister Chester Cooper said there was high demand among travelers to visit the Bahamas.
He said that, coupled with stable upcoming bookings, had sparked optimism among tourism officials about better performance in the coming months.
He shared the news on Friday after a visit to Sterling Commons and the Hurricane Hole Project.
"… There is a very significantly high demand for the Bahamas as a tourist destination. (The) General Manager assured me that the trends we are seeing are very positive for the future by talking to some hotels and owners and managers.
"They are also optimistic about what they will see in the next few weeks," he told reporters yesterday.
"I am informed that we have stable upcoming bookings, and we are optimistic for the next few months and the stopover numbers in particular that will come."
The pandemic has dealt a heavy blow to the country's tourism industry and the minister has indicated that the priority is to bring the number of tourists back to pre-COVID levels.
However, Cooper said good adherence to the COVID-19 protocol is important.
"(I) think it is important to recognize that we are still in the midst of a pandemic and it is necessary and important that we do all that we can as individuals, as employees, as as business owners to make sure we continue to follow protocols to help contain COVID.
Meanwhile, the minister addressed Atlantis' controversial plan to require all unvaccinated staff to pay for weekly COVID-19 testing.
Labor and Immigration Minister Keith Bell later revealed that the resort had agreed to suspend implementation of the policy.
Mr. Cooper took note of a meeting with senior managers at the resort and highlighted the challenges the pandemic was posing for businesses.
"I think it's a problem between the employer and the employee," he said. "There are concerns about employee salaries and so on. We have a meeting with senior managers from Atlantis. I can tell you that there have been adjustments in the policy. I don't want to be the only one making these announcements, but suffice it to say that we look forward to working hand in hand with our major partners in the tourism industry.
"We will have active discussions with key players including Atlantis over the next few weeks. The pandemic has been a very difficult time for business, especially in the tourism space, and has called for policy adjustments and I am delighted that we are already engaged, and will work hand in hand to continue to move forward. tourism in our country. It is important."