A day in the life of an agent in the contact center of the future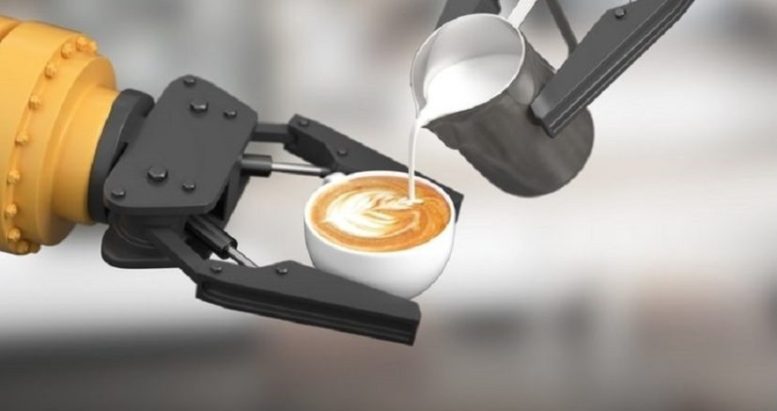 It's a sunny day when I arrive at the office. After passing the usual security and health scan, I walk to my desk and log in with a single voice command. So far so good, my unique voice signature is instantly encrypted, verified and approved. Meanwhile, one of our mobile coffee robots passes by my desk to serve me my morning cappuccino the way I like it.
The first thing I do is open the automatic daily shift report. Our team performed very well yesterday, the estimated NPS was two points higher than the average for a normal Tuesday. Last week's team meeting and coaching session paid off. The first call resolution metric, in particular, has improved significantly. I'm interested in how we did this and decided to dig into the details. The company finally fixed the knowledge base bug and we also learned how to work better with the auto-call assistant. Additionally, the Assistant's AI engine has been updated again to answer even more questions.
I look over my screen and see my team's large live monitoring dashboard hanging on the wall. Today's trending call topic is obviously an issue with our company's latest add-on which was released a week ago. Some 27% of calls have been on this topic lately and it's growing hour by hour. To refresh my memory, I click on the percentage to see the necessary details. A guideline and sample script are provided to help me know what to say and how to resolve the issue over the phone.
It's time to make the first call. I insert my earplugs and press the ready button on my system. Immediately, the first customer profile and their question appear on my screen. Even though this customer subscribed very recently, the IVR and associated customer prediction model labeled it as high potential, so it makes sense that a human would handle this call. I greet the customer, without worrying about staying close to my microphone. Current voice optimization technology is perfectly capable of making my voice sound as clear as possible and canceling out any distracting background noise. It gives me a lot more freedom.
The customer wants to subscribe to a new service and responds to one of our latest campaign announcements. However, she is unable to find and subscribe to this service in her customer portal. Immediately, my digital assistant, listening to the call, tries to get my attention. Within seconds of checking the customer's profile, a suggestion pops up in my terminal. Apparently the customer is still on a trial subscription and company policy prohibits changing subscriptions during a trial period. The assistant lets me know that I am authorized to make her a personalized offer to start a new paid subscription, with a 10% discount for this type of customer. The customer is hesitant and wants to know a few more details about the subscription. By checking the knowledge base and automatically extracting the correct information, my assistant can also help me with this part.
Everything is now clear to the customer. When I'm about to wish her a wonderful day and end the call, a warning message pops up on my screen. It's my automatic compliance checker reminding me that I forgot to notify the customer of the changed payment terms for the new subscription. I quickly correct this error and the compliance checker is satisfied. After completing the call, I can leave the afterwork and the actual subscription to the system itself. The system generates an automatic summary and updates the customer's CRM record with the new subscription information.
It's 11 a.m. and I've been invited to a virtual coaching session. After logging into the virtual coaching environment, my personal report from last week shows me my improvements as well as my weaknesses. First, the positive: My predicted overall NPS score has increased for the third week in a row, this time by 8%. My professionalism and patience are particularly appreciated apparently. The report provides me with a few excerpts from last month's calls that I listen to, each with a commentary on how I could still improve. I still remember most of them, like the one from last week where I almost lost my temper. But I am surprised by a few of them. A call that I thought I handled very well actually didn't resolve the issue and the customer had to call back the next day. Some indicators of this that I was missing are pointed out to me by my virtual coach.
Just after my lunch break, another call is waiting for me. This time the caller specifically asked to speak to a human. I don't look forward to this as they are usually the type of picky customers who are usually frustrated with our service and want to let off steam. However, since my performance on these types of calls is above average, the system prefers to make these calls to me in general (but not too many in a row as it does not help with motivation).
The caller requests to change their subscription login credentials, but fails to pass online verification. I go through the standard identity verification process. Immediately, the first alarm bell goes off. The automatic voice scanner warns me that the voiceprint of the caller does not match what is recorded for this subscription. In addition, the acoustic emotion detection also indicates nervousness and faster conversation speed than would be expected for that particular query. I'm on my toes right away and want to make sure I'm doing the verification process thoroughly and correctly. Fortunately, the automatic compliance assistant is there to keep an eye on me. Because the caller does not have a login ID or access to the phone we have registered, I cannot help them further and politely invites them to one of our physical stores for full identification.
Finally, the lines are closed and my day ends with our weekly team briefing. This is a largely informal meeting, where conversational analysts share with us the latest trends and best practices they have identified.